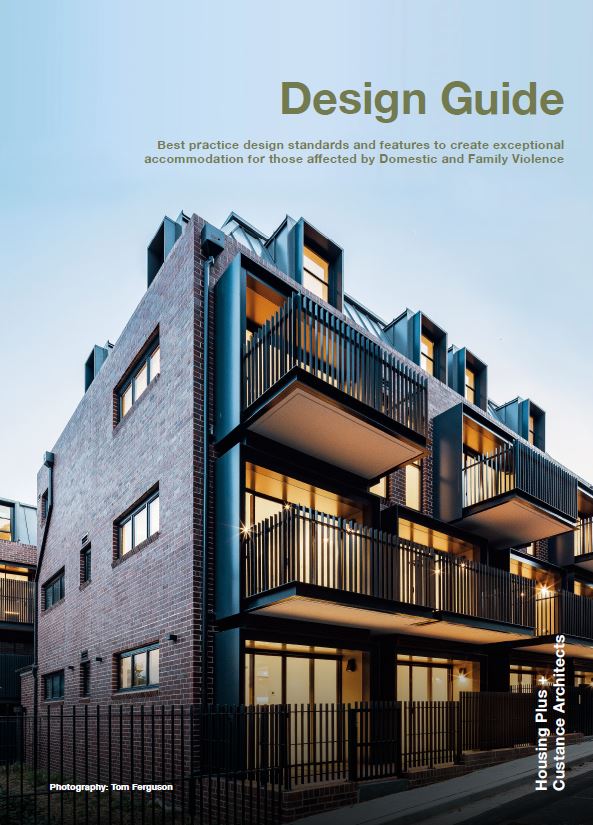 Read Guide at: Design-Guide-Specialist-Domestic-Violence-Accommodation.pdf (housingplus.com.au)
This Design Guide has been developed by Housing Plus in collaboration with Custance Architects. It explores the importance of providing thoughtful and high-quality design for those affected by domestic and family violence (DFV) and key factors that need to be considered when new facilities are designed and built, through design that meets their need for dignity, independence, safety and connection. The Design Guide outlines the necessary standards, principles and features that are essential in delivering successful future housing for those affected by DFV and has been developed in collaboration with other key stakeholders with experience in providing DFV accommodation across Australia. The Guide is a work in progress document that will, over time, continue to improve with the feedback and survey work that we intend to continue with local, state, and federal stakeholders.
This design guide has been developed for organisations or individuals involved in developing new or refurbished specialist DFV accommodation in Australia. It is proposed that this guide will be used by community housing providers, government agencies, specialist DFV and homelessness providers, private developers, Architects, Planners and other development professionals. The guide has been developed in such a way that development professionals can apply the design standards and features, included within this guide, to the different state planning policies across Australia.
Thank you to the contributors for their time and generosity in sharing their knowledge and experience. This guide will prove a valuable resource in the provision of fit for purpose housing that truly encompasses the diverse requirements of those affected by DFV.
This Design Guide has received ongoing industry and sector support and presents some of the best practice in Australia today.