"As the result identifies climate and affordable housing will be a focus of the next ALP Government, Greens and Independents and the replacement of old inefficient homes will have to be a focus."
As per the Climate to drive housing policies story on page 4 of todays Australian print/online edition, a quarter of the top 20 electorates with the highest dwelling value increases since March 2020 have seen a change in the Member, (Mackellar, Wentworth, Robertson, Ryan, and North Sydney), another three seats in the top 20 electorates are still in doubt (Richmond, Bennelong, Gilmore).
The largest value increase electorate of $676,805 median value increase since March 2020 was Mackellar, whose outgoing Member was the previous Housing Affordability Inquiry chair Jason Falinski.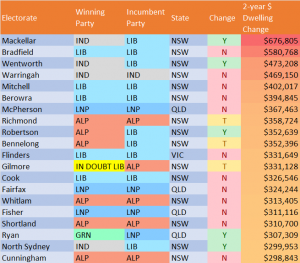 Three out of the top four electorates (out of 151 seats) with dwelling value increases since March 2020 are today independents (Mackellar, Wentworth and Warringah).
Prior to the election 14 out of the top 20 electorates with the highest dwelling value increases since March 2020 were Lib or LNP, at best post the election there will be 8 or 9 Lib/LNP seats.
Whilst the ALP had 5 of the top 20 seats in terms of dwelling value increases since March 2020 their position has improved by net one seat to 6 of the top 20 voters with these crucial change seats seeking change.
There are still more votes to count, but it is clear that many whose paper wealth has increased have voted for issues such as climate, housing and cost of living pressure relief which the ALP, Independents and Greens have largely campaigned on.
The one unusual outlier is Gilmore which saw the highest increase in dwelling prices nationally over two years (55.46%), which looks to change to the Liberal candidate. With such paper wealth gain and devastating bushfires and sea changes, the moderate Liberal candidate had to focus on climate and housing issues driven by local housing CHPs such as Housing Trust and Southern Cross Housing.
With the political term now in its infancy, it is clear that the issues of housing and climate will be a focus and a newly elected Federal Labor Government which will build 30,000 new social and affordable homes and there will be a large number of the 10,000 shared equity homes newly built.
Whilst Labor's housing policy is substantive, there will be pressure for more from those such as the Australian Greens who have pledged an additional 1 million new social and affordable energy efficient homes over the next 20 years with community housing to be a focus.
As the election dust settles there will be a lot of those voters in these high wealth electorates living in old non 7-star energy rated heritage listed homes, who by their vote, will require that many of the 7 million high Co2 emitting homes nationally will need to have a renewed focus for improving or replacement.
To campaign on climate change is one thing for these newly elected candidates, but to get the results in the near future is another.
With 300,000 mostly older non energy rated public housing homes that are hot in summer, cold in winter, expensive to run, non universal designed that are located on existing commuter routes, near retail, health services, jobs, schools and infrastructure, these homes will have to be a first focus for replacement or environmental improvement. This fits well with the ALP Housing Australia Future Fund 30,000 home policy to take the initial step and next National Housing and Homelessness Agreement to then start to tackle the rest.
For the 7 million mostly private Australian homes that were built prior to energy ratings in 2002, there is a lot of energy improvements that can be considered but that will be a harder task to get early wins.
The need to reduce housing emissions which contribute up to 20% of Australia's Co2 footprint, will have to be an obvious priority by the new parliament for these independents, Greens and the ALP Government to 'get runs on the board or emissions out of the air' by the time Australians head to the polls again in 2025.