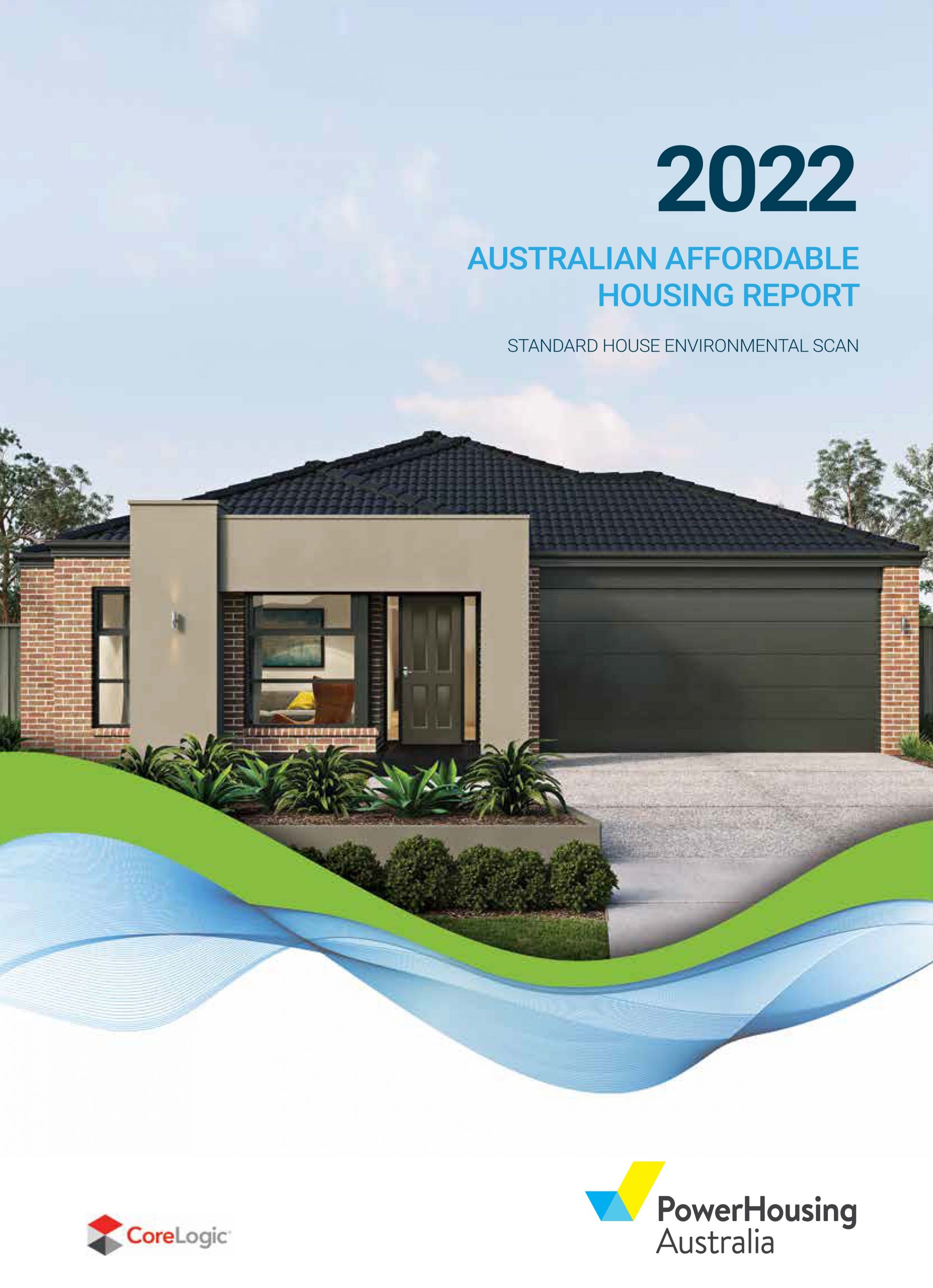 Read the PowerHousing Australia CoreLogic Standard House Report.
We are releasing our annual Australian Affordable Housing E-Scan report today, in partnership with CoreLogic. We find that renewal of Australia's ageing housing stock offers a multitude of benefits that will supercharge the emissions reduction, boost jobs and provide new functional affordable housing for younger Australians. 
Australia's Emissions Reduction Plan taken to COP26 in Glasgow says technology is the key to balancing these global emissions and economic development objectives, but the ageing housing stock will cruel any targets until sustainable technology takes over from coal, which is decades away. 
Almost 8 million pre-energy rated Australian homes are now well past their use by date, contributing up to 18 per cent of Australia's greenhouse gas emissions and are a real liability when it comes to hitting our Paris Agreement commitments for net-zero emissions. What is startling is that the National Net Zero Emission plans forecasts that by 2050, around 7 million homes will not be subject to improved energy efficiency measures in the National Construction Code with no retrofitted improvements to improve the fabric of these homes. 
The twin climate and COVID-19 crises have reinforced the unsuitability of Australia's 30-year-old+ housing stock on lower income families and younger Australians, who are disproportionately living in lower energy rated homes that impact financially and unnerves well-being. 
Countless Australians, particularly in share houses, are only too well aware after months in lock down that average dwellings are cold in winter, hot in summer and prohibitively expensive to cool and heat.  
The report also shows that younger Australians are adversely impacted by the unexpected surge in rents and with double digit growth in house prices the prospect of purchasing a home has moved further from reality. 
Outside the capital cities in the normally more affordable regions there has been a 9.3% growth in rents this also impacts harder considering youth unemployment in the regions is traditionally higher.
Whilst the Federal First Home Loan Deposit Scheme had increased numbers picking up the keys the price of housing has skyrocketed with values increasing on average by 13 % with higher impacts in Sydney making any assistance almost negligible (15%), Canberra (18.1%), Perth (18.8%), Hobart (19.6%), and Darwin (21%). 
The situation for young Australians and those with families looks even more bleak when one considers that in just 10 years the number of affordable homes have vanished in parts –the number of homes selling for under $400k have plummeted:  
Melbourne sold only 1.4% of houses under $400k in FY2021 compared to over 30% back in FY2011

 
Canberra sold only 2.7% of houses under $400k in FY2021 compared to over 30% back in FY2011

 

Sydney sold only 2.9% of houses under $400k in FY2021 compared to over 25% back in FY2011

 
As the report shows, today we have a lot of old homes that are not fit for purpose, that cost a lot to rent and are even harder for young Australians and families to buy. 
An existing 'old' standard house on existing commuter routes close to jobs can make way for up to three new highly energy efficient, accessible and well-located dwellings, a proportion of which can go to meeting the surging demand for more social and affordable housing. 
We state that new social and affordable housing builds can fill the gap in the construction pipeline, tackle the serious lack of affordable housing particularly in regional Australia. 
Key findings in this year's Australian Affordable Housing E-Scan include: 
Key Environmental and Social elements 
There are at least 8 million (out of 10.6m) existing homes that are often inefficient (contribute 18-20% of carbon emissions as acknowledged by COAG) impacts of this for achieving net zero, as well as increasing the supply of social and affordable housing.

 

The recently released National Net Zero Emission plans forecasts that by 2050, around 7 million homes will not be subject to improved energy efficiency measures in the National Construction Code 

with no retrofitted improvements to improve the fabric of these homes.

 

They often sit on larger 800-1000sqm lots, sit on flat land close to commuter routes and jobs, with clear benefits of new housing development, environmental, universal design, wellbeing, economic.

 

Australian Social housing stock is often old, less inefficient and costly to run with impacts on economic and social wellbeing for those that can afford it least.

 

Market acceptance of knock down rebuild to better utilise/densify inner/mid ring developable land.

 

Race to purchase flat lots ahead of new accessible design standard coming into the national construction code.

 

As is the case in market housing, Australia needs to look to replace ageing social housing stock and create additional social and affordable housing outcomes.

 

Renewal of outdated housing is an opportunity to improve liveability, density, energy-efficiency and accessibility, and plan activity in the construction sector to keep the economic recovery going.

 
Housing Affordability elements 
The COVID-19 pandemic created a "race for space"

 with demand shifting from high density/units to low density/detached housing and from urban to regional areas forcing up rents over 9 percent in the past year.

 

This phenomenon saw areas with a lower population density associated with rent increases, where previously such increases where most acute in higher density dwelling areas.

 

Australia's house price growth over the 12-months to Q2 2021 was 7th fastest in the world. The global average was an 8.2% increase, the fastest rate of house prices growth since Q4 2006.

 

Over the past twenty years the median value of a capital city dwelling has risen by $524,291 or 258.1%. In the 12-months to June 2021 national dwelling values increased by 13.5%.

Nationally, the proportion of houses sold under $400k reduced from 44.7% in 2011 to 23.7% in 2021, while unit sales under $400k reduced from 48.2% to 28.7%. 

 

Residential lending peaked at a new high of 

$32.57 billion in May 2021, an astounding 43.8% above the previous record March 2017 levels. The primary driver of that growth has been the explosion in owner occupier lending. First home buyers have also made a big impact on the market. At one point FHB lending made up 26.8% of all new loan commitments.

 

Net overseas migration has suffered a stunning turnaround in COVID-19 times falling from a peak of 241,338 in 2018-19 to a forecast low of -97,000 in 2020-21. Migration is only predicted to return to pre-COVID levels in 2024-25. 

 

Foreign investment approvals in residential real estate plummeted from 40,141 approvals in 2015-16 to 7,056 approvals in the latest reporting period of 2019-20, down from $72.4 billion in approvals to $17.1 billion. 

 

143,100 detached dwelling commencements are forecast for the 2021 calendar year – a new record that is likely to remain unbroken for the decade ahead, however 

HIA estimates the number of detached housing commencements will fall from 135,290 in 2020/21 to 93,770 in 2023/24, a 30.7% decline.

 

In the ten years from 2007-08 to 2017-18 the national proportion of low-income households in rental stress has increased from 35% to 43.1%.

The proportion of mortgage holders in mortgage stress has increased from 32.9% in February 2020 to 41.7% in July 2021.

iv

This compares to 2013/14 when mortgage stress was below 20%.

20% of key workers in Sydney and 17% of key workers in Melbourne experience housing stress with key workers being pushed to the city fringes to obtain affordable housing.