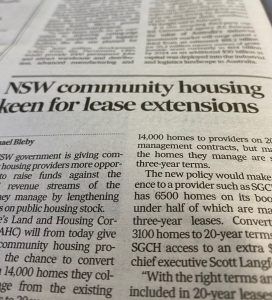 As reported by the Australian Financial Review, the NSW government is giving community housing providers more opportunity to raise funds against the expected revenue streams of the homes they manage by lengthening the terms of lease from 3 years up to 20 years.
The state Land and Housing Corporation is reported to be providing the largest community housing providers the opportunity to convert lease terms from short term to the long term which will allow the CHPs to provide greater long term certainty to lock in long term contracting servicing arrangements and restructure finance to longer terms.
NSW Minister Melinda Pavey states "a 20 year lease will enable CHPs to consider leveraging more secure longer term revenue streams to grow their portfolio, employ more people and engage with financiers and investors."
The new long term leases would have a positive impact on members such as SGCH which has around half of its 6,500 homes on 3 year leases currently which could free up additional capital now to be invested in social and affordable housing outcomes.
SGCH CEO, Scott Langford indicated that with the right terms and conditions included in the 20 year leases to allow finance for an additional $50 million from financiers for social and affordable housing.
The positive here is that immediate long term housing outcomes can be unlocked across the country where additional housing outcomes and economic activity can be supported by other State Governments in such an impactful way.