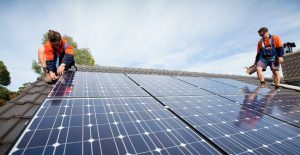 Low-income earners in community housing will be saving on their energy bills in an Australian-first program
Renewable energy tech startup Evergen announced the pilot program with community housing organisation SGCH today, which will see the installation of intelligent home energy systems in 10 low income households in New South Wales.
Evergen, who is backed by CSIRO and AMP Capital, launched the nation's first remotely managed intelligent renewable energy centre for domestic use.
The company combines the strength of solar and batteries with intelligent technology, allowing SGCH tenants to reduce their energy bills by up to 80 per cent.
The pilot project – the first of its kind nationally – is co-funded by the Office of Environment, the Clean Energy Finance Corporation and SGCH to deliver an innovative solution for social and affordable housing tenants.
"The Evergen system has the capability for SGCH tenants to save significant amounts off their household energy costs," Evergen CEO Dr Glenn Platt said.
"As well as reducing energy costs, we hope that by providing the tenants with more information about how they consume energy via the Evergen app, we can empower them to better manage how they use energy.
"This is a piece of technology that we see as vital in the future of community housing and we are excited to be at the forefront of this."
CEO of SGCH Group Scott Langford said low income households spend more of their household budget on essentials such as energy. The results of this pilot project will provide valuable information on the benefits for households that are more vulnerable to rising energy costs.
"People on low incomes are struggling the most with the rising cost of living including high energy costs. Many social housing tenants have high energy consumption: as a share of household income, low income households spend three times what high-income households spend on in-home energy," Mr Langford said.
"It is these people who would benefit the most from energy saving measures in their homes, but who can not afford the large up front costs of items like solar panels.
"SGCH is committed to sustainable housing design, ensuring tenants who are vulnerable to rising energy costs can benefit from savings now and in the future.
"We are excited to work with Evergen to offer our tenants cutting edge technology that will make a real difference to their energy bills, health and wellbeing."
The systems will have solar PV's installed on the roofs and the batteries installed in a common, purpose-built shed.
Each property will have its own Evergen intelligent home energy management system, allowing the systems to be tailored to each user's specific needs to maximise their savings.
The Evergen intelligent home energy system learns the power consumption patterns of each customer household and forecasts solar production based on analysis of local weather to build a picture of future energy flows to make smart decisions that reduce energy costs.