Author: Wendy Williams.
Australia is facing a growing wealth divide between the young and the old, with expectations that by next year less than half of all adults will be able to own their own homes, according to a new report.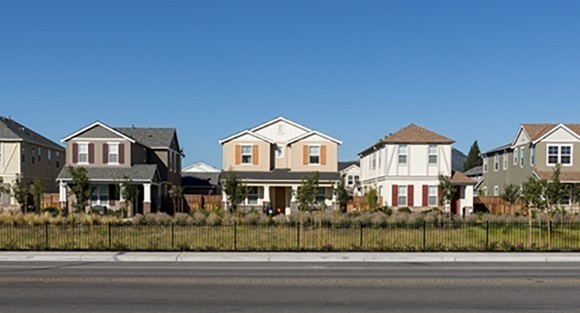 The annual, Household, Income and Labour Dynamics in Australia (HILDA) survey, collected by the Melbourne Institute of Applied Economic and Social Research, has revealed there is a rapidly growing wealth divide between generations, which could have "socially undesirable consequences".
The HILDA report, the most comprehensive long-term study of Australians, found the wealthiest households in Australia were couples over 65, who had experienced a real increase in median net wealth of almost 70 per cent since 2002, compared to just 3.2 per cent among people aged 25 to 34.
At the same time the survey, published on Wednesday, showed the number of homeowners in Australia was falling.
Report author, Professor Roger Wilkins from the University of Melbourne, said the high cost of real estate was putting pressure on the younger generations, while older generations benefited from the large increases in house values.
"What's been happening in the housing market is the most important driver of the differences inwealth changes between the young and the old," Wilkins told Pro Bono Australia News.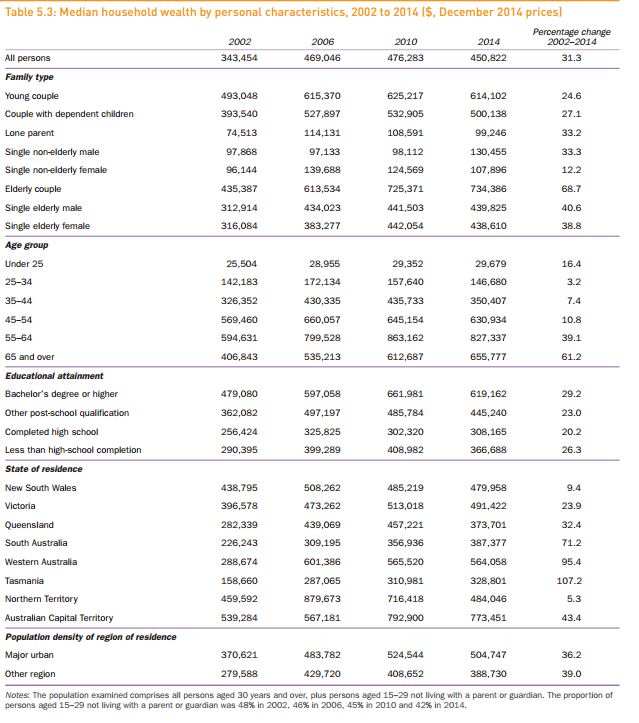 "I think what we are seeing in the housing market is declining homeownership amongst younger people and an increasing likelihood that many of these people will never own their homes, and I think in the Australian context that has socially undesirable consequences.
"I think given the fairly insecure nature of tenure in private rental accommodation, homeownership is definitely a preferable living arrangement for most people and generally homeowners tend to be more invested in their local community and feel like they have more of a stake in Australian society more broadly, so I think to the extent that we are seeing declines to the point where possibly next year fewer than half of all adults in Australia will own their own home. I think that is an undesirable trend for social reasons."
The HILDA Survey, which has been running since 2001 and is funded through the Department of Social Services, collects information on a wide range of aspects, including household and family relationships, child care, employment, education, income, expenditure, health and wellbeing, attitudes and values on a variety of subjects, and various life events and experiences.
Information is also collected at less frequent intervals on various topics, including household wealth, fertility related behaviour and plans, relationships with non-resident family members and non-resident partners, healthcare utilisation, eating habits, cognitive functioning and retirement.
Key findings from the latest report included:
People are starting families later. In the last decade there has been an increase in people in their 30s, and a decrease in people under 30, becoming pregnant.
Spending on childcare has increased significantly from 2002 to 2014: 109 per cent and 132 per cent respectively among couple families and single parent families who use childcare.
Child care expenditure is rising faster than household incomes.
60 per cent of people who experience poverty only experience it for one year or less, while 8 per cent of people who experience poverty, will do so for six or more years.
Long-term poverty is strongly associated with disability, low levels of education, the elderly, the Indigenous community and living in non-urban areas.
Welfare reliance among working-age people is increasing, but only slightly.
Nearly 70 per cent of all households contained working-age people who received welfare at some point.
Given that less than 20 per cent of working-age individuals receive income support in any given year, and relatively few people received welfare for seven or more years, the welfare system does indeed provide temporary rather than long-term support for most recipients.
There was a 37 per cent real increase in median wealth of Australian households between 2002 and 2014, bringing the 2014 average to just over $400,000.
Approximately two-thirds of households are home-owner households, although this proportion has been steadily declining over the 12 years of the survey.
Mean home debt has almost doubled in real terms from 2002 to 2014.
Superannuation is held by almost 85 per cent of households and is the second most important asset.
60 per cent of adults were home owners in 2014, down from 64 per cent in 2001.
Home-ownership has declined significantly since 2001. It is likely that in the next few years less than half of adults will be home-owners.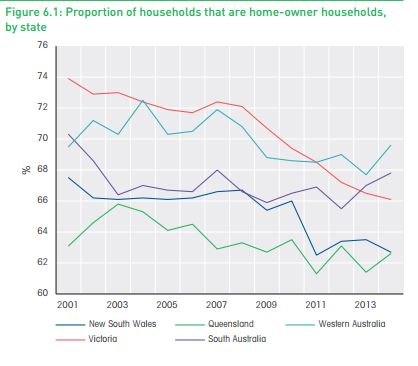 In 2014, new questions on "material deprivation" were included in the survey to provide more direct information on those faring worst economically.
Among the findings were that 12 per cent of households did not have $500 in savings for an emergency, 8 per cent did not have home contents insurance because they couldn't afford it, and 5 per cent could not afford dental treatment when needed.
The latest survey also found that the gap between high and low earners was gradually widening.
Wilkins said the data exposed some "painful realities" in many of the nation's households.
"We're seeing high poverty rates for single parent families. Almost 20 per cent of single parent families are lacking basic essentials," he said.
"Nearly 70 percent of all Australians households have received some form of welfare benefits between 2001 and 2014.
"Parents using childcare are, in real terms, paying more than double the fees they were paying in 2002. This is despite 25 per cent of families relying on grandparents for childcare, who provide an average of 14 hours of care per week."
The average annual disposable income per household (at December 2014 prices) has risen from $58,000 in 2001 to $76,000 in 2014, an increase of just over 25 per cent.
Wilson told Pro Bono Australia News the data showed that "unambiguously the boom is over".
"We are in a new economic world where incomes are not on average growing, wealth is not on average growing, and certainly that is not as attractive a proposition as the strong growth in both income and wealth that we saw prior to the GFC, but that said we are not going backwards," he said.
"I think perhaps one of the remarkable features of Australia since the economic slowdown is that inequality hasn't discernibly risen and poverty rates have actually declined slightly, since the GFC, so to date Australia has handled the slowdown quite equitably but whether that will continue in the future i'm not so sure.
"I'm not entirely confident, because one of the ways this slowdown has been handled is that the government has gone into increasing debt and eventually that will have to be reeled in and so as measures are taken to reduce the deficit I think the risk to lower income household is much greater than the risk to higher income households.
"I think we do face the prospect that income inequality will widen and economic disadvantage will increase over coming years, but it all depends on what particular budget measures are introduced to bring the deficit down and so it's certainly not inevitable that that will happen."
Wilkins said the HILDA survey was a "crucial tool" for policy making and to understand the social and economic direction of the nation.
"It is Australia's only nationally representative longitudinal study, so that's its key distinguishing feature," he said.
"Since 2001 we have been interviewing the same people and so really charting their life course, seeing the economic journeys they take, but it's not just the economic journeys, and that I guess speaks to the other strength of the study, is its the richness of the data.
"We collect information on virtually all aspects of life in Australia be it employment, income, health, wealth, education, family life and so on, and so that richness combined with its longitudinal nature really makes it a unique source of information about life in Australia."
Source: http://probonoaustralia.com.au/news/2016/07/hilda-report-reveals-painful-realities-australian-life/?utm_source=Pro+Bono+Australia+-+email+updates&utm_campaign=7e8e857b9b-News_Bulletin_21_7_167_21_2016&utm_medium=email&utm_term=0_5ee68172fb-7e8e857b9b-147383513&mc_cid=7e8e857b9b&mc_eid=6dea29a598